Ken Koury has been called a Monopoly genius, a savant, and the Patron Saint of Real Estate by some (mostly me).  Ken is the center of all things Monopoly, having been competing in tournaments since the late 70's, through today.  He has written the definitive book on the game called Monopoly Strategy, which has transformed the way the game is played.  In the interview below, we talk about his rivals, his secrets to success, and even his acquisition of an original Monopoly game, hand crafted by creator Charles Darrow himself!
Podcast: Play in new window
Ken's Monopoly board-colored playing piece: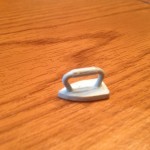 Check our pictures of the original Charles Darrow set on Pinterest:
Follow Fascinating Nouns's board Ken Koury's Monopoly Pictures on Pinterest.