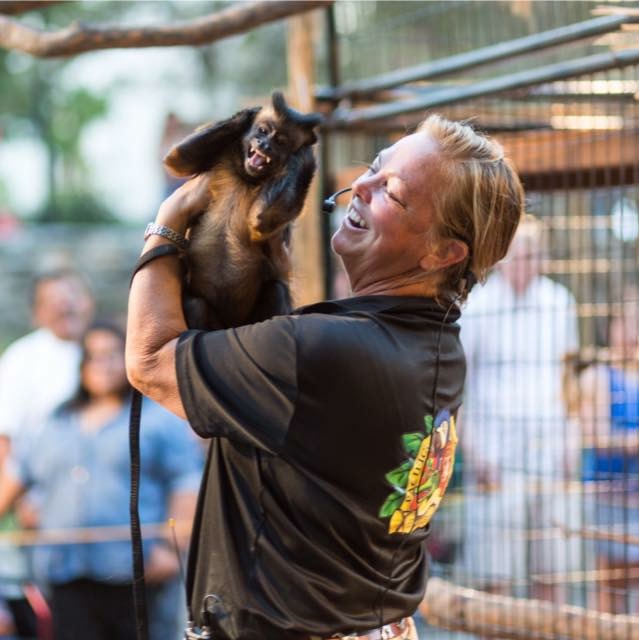 *From Her Website*
A native San Diegan, Karla grew up within shouting distance of the world famous San Diego Zoo and San Diego Wild Animal Park. Both animal conservation organizations influenced Karla's dreams of working with animals.
Karla had horses as a child and was lucky enough to have some of the greatest inspiring mentors, Bud Brennick and Dr. David Zanders DVM, who encouraged her to dream big. Dr. Zanders hired Karla to work at his veterinary hospital in high school. Then Karla pursued her passion for animals at the famous Moorpark College in Los Angeles, where she graduated with a degree in Exotic Animal Training and Wildlife Management.
Eager to get started, she moved to Oregon and worked for Wildlife Safari. Karla's experience was broad: everything from caretaking for lions and elephants to state-wide traveling with a cheetah conducting preservation outreach programs. During these travels Karla discovered her true calling: public speaking. But Southern California, her family and the warm weather called Karla home. She was fortunate to join the animal training staff at the San Diego Wild Animal Park, which led to show hosting duties with the elephant, bird and North American animal shows.
We talk about the similarities between a tarantula bite and a staple gun, culinary delicacies such as Whipped Insect Gruel, and the misconceptions of the rodeo.
Websites/Social Media:
Pacific Animal Productions Website
Pacific Animal Productions on Facebook
Follow Fascinating Nouns's board Karla Majewski – Pacific Animal Productions on Pinterest.
Click here for the article about the rare insect Karla and I talked about.
Wait what! There is a bonus episode!? Check it out here! We talk about several of the amazing animals she has saved, as well as the dangers of invasive species as pets.
Majewski's Magical Menagerie
Incredible Videos
https://fascinatingnouns.com/wp-content/uploads/2016/02/karla-image.jpg
Podcast: Play in new window
Subscribe: Google Podcasts | Stitcher | RSS